A newly-finished documentary is a "love letter" to a local theatre, the figure who poured his heart and soul into it, and the moviegoing experience.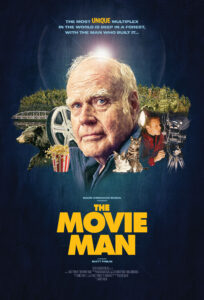 The Highlands Cinema, a fixture of Kinmount for four decades, and its owner Keith Stata, are the subjects of The Movie Man by Canadian filmmaker Matt Finlin. 
Finlin started the project in 2018, something he says he initially thought would take three days. Five years later, the film is now finished and awaiting screenings at film festivals across North America. 
"I wanted to make a short film about a place I really love, and I wanted to go and film this quirky, idiosyncratic theatre. And then I realized there was also a quirky, idiosyncratic owner that had a larger story to tell," says Finlin. "Over time it developed into larger story that's not really just about reverence for going to the movies, but it's really about a man who has dedicated his entire life to creating a special experience for people." 
Finlin says those quirks include the 43 cats seen around the property whom Stata looks after, and a popcorn-loving wild bear. "If they don't feed him popcorn he's going to be in there flipping garbage cans over. So, every night Keith will make 25 litres of fresh popcorn and carry them out into the woods, and the bear will eat it along with a plethora of other animals." 
Another focus is the walls and walls of film history relics and documentation Finlin says "would put the Academy Museum in Los Angeles to shame. I really didn't understand the extent of Keith's collection and how particular he was about assembling it. You can pass by and think 'those are kind of neat,' but if you look deeper, you might learn something about the place, and the town, and Keith himself." 
Finlin says he's had fond memories of Highlands Cinema ever since he went to see Terminator 2: Judgement Day at 11 years old. Since then, he's revisited the establishment countless times on camping trips to Haliburton County and Kawartha Lakes, and visits to his parent's Maple Lake cottage. "Entering that theatre changed the trajectory of my life, because it made me want to make movies and provide that experience that Keith Stata has provided to generations of movie-goers." 
The Movie Man is Finlin's first feature-length film. His previous work includes a short film documentary about the subway musicians of New York, six years of the WE Charity's TV special, and various celebrity philanthropy projects. "I think the way this is different from my other projects is that I got to make something that inspired me to do what I do. I became friends with Keith and I got to really see the inner workings of this beautiful place and this wonderful experience that he has provided for so many." 
He says audiences can expect an experience that is both funny and moving, as well as surprisingly relatable. 
"Yes it's inside this this idiosyncratic theatre, yes there's a bear eating popcorn and it's quite funny," says Finlin. "But at the same time, you see how time is limited. And there's a theme of time spent and what you do with your life in the film, that I think will emotionally resonate with people who dedicate their lives to something and to others." 
Finnlin says he's optimistic about potential screenings at the Vancouver Film Festival, Sundance, and South By Southwest, ahead of a wider theatrical release and eventually streaming services. He adds that while people don't line up for movies as much as they used to, the theatre experience is something that isn't easily replaced. 
"It's a really important thing to get together with people in a room in the dark and experience something, whether you're going to another planet, or sharing an emotional experience, or laughing. It's something that I strongly believe should still be revered and enjoyed. I would encourage people to go to the movies, go to Keith's theatre in Kinmount, especially with the opportunity to see The Movie Man. Because if you've been to Keith's theatre over the decades, I think it's a film you will really enjoy."